Hi,
recently, I read about the toner transfer method for making PCBs by simply print the layout, put it together with the PCB and heat it up, so the toner sticks to the copper.
I wanted to try this method, so I bought a cheap laminator for about 20 bucks and wrote some code for a PIC 16F1824. The result is great!
The small sized PCB of my control is made by using the toner transfer method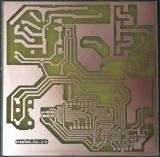 Prototype with PCB version 1
heat up

cool down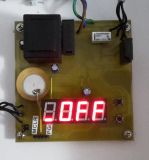 If you want to make your own control, I uploaded everything needed below.
BE CAREFUL, YOU WILL BE WORKING WITH DANGEROUS VOLTAGES! REPLICATION AND USING AT YOUR OWN RISK!
UPDATE: added layout files which can be edited by using Abacom Sprint Layout 6